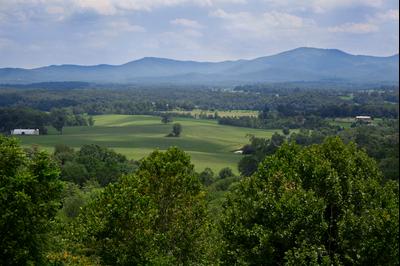 FAQs when booking a hotel in Basye
How much is a cheap hotel in Basye?
KAYAK users have found double rooms in Basye for as cheap as $117 in the last 3 days. The average price is $146.
How can I find hotels near me?
Take a look at our extensive
hotel Heatmaps
to find the best hotels near you.
Where to stay in Basye?
Our Heatmaps tool will help you find the perfect place to stay in Basye by showing you how close hotel options are to major activities
1
8.9 Excellent (79 reviews)
This resort in Basye, Virginia is within 1 mile of skiing, tubing and golfing at the Bryce Resort. These accommodations include a kitchen complete with an oven and a refrigerator. Chalet High offers multi-level accommodations that include fully equipped kitchens, washers and dryers, electric fireplaces and a balcony or patio. The Chalet High Activity Center features an indoor pool, hot tub, a fitness centre and a dry sauna. Bryce Resort is 850 metres away from Chalet High Resort and offers skiing, snowboarding, wall climbing, golfing and dining. Boating, kayaking, hiking and fishing on Lake Laura is 3.9 km away from the property.
5.5 Okay
Pros: The golf course is superb.
Cons: The 2 room apartment we stayed in is in dire need of updating. Very dated, 70s.
10.0 Excellent
Pros: The size of the room.
Cons: Master bedroom mattress was hard.
9.3 Excellent
Pros: I was amazed at the spaciousness of our condo. The staff were very friendly and even set out peppermint patties at the front desk because it was St. Patrick's Day! The salt-water pool was fabulous; , we swam for an average of two hours each day and suffered no irritation or dryness. I'm definitely looking forward to a repeat stay.
Cons: The dishwasher in the kitchen was a little weak; it didn't want to discharge the soap correctly.
5.8 Okay
Pros: If you are looking for peace and quiet this is for you. If you play golf this is for you. There is also a pool we did not use it but it was in use by other guests. Caverns and Skyline drive are about 1hr drive away but a definite must.
Cons: Outdated - needs upgrades badly. Appliances outdated but they do work, shaggy carpet has to go it's almost every where, all mismatched furniture. 2 bedroom unit I was in had no 1/2 bath on the main level so had to go up or down every time you need the bathroom. Master in the lower lever was very cold, so with only 1 thermostat on the main level, when u turn it up,the bedroom in the upper level became too hot. Heat rises so perhaps give the lower level separate heater. Each set of units should have a garbage dump instead all guests have to trek to 1 place that's not conveniently located for all units. We were booked for 6 days our car was parked in front, no other cars nearby yet maid service came in with a key no courtesy knock whatsoever. No maid service provided during stay unless requested and paid for - why are you there? Shopping / Restaurants / other activities are all 45+ mins away. Shower in the lower level very very small, I am small and I kept hitting the door every time I used it.
9.5 Excellent
Pros: very quiet nice place to stay . we are 3rd time came to this resort
Cons: nothinkexecelent
9.3 Excellent
Pros: The place had a beautiful view. Many places to hike close by.
Cons: Please keep the prices affordable. They have changed since we stayed there so we had to change the place.
6.8 Good
Pros: View from deck was the best point. Listen to creek in background . Pool was pretty big.
Cons: All beds very uncomfortable hard as a brick. Design of bathrooms are weird. Had to fix av cable's not put in right for DVD player to work.
8.3 Excellent
Pros: We loved the location being so close to Bryce. We also loved that the kids could play outside and we felt that they were safe.
Cons: There wasn't anything that we in particular we didn't like.
10.0 Excellent
Pros: It is convenient, clean and comfortable
2
8.9 Excellent (34 reviews)
Relax and enjoy Senedo Springs, located at the foot of North Mountain and adjacent to the Shenandoah Valley. Days can be spent sight-seeing in the valley, which is full of history, caverns, battlefields, crafts, and antiques. You will love the serenity of still nights at this secluded vacation spot. Within a couple of miles are four ski runs varying in difficulty. In the warmer months, head for the 18-hole PGA golf course and driving range. Close by is 45-acre Lake Laura with a swimming area and water sports.
8.3 Excellent
Pros: Location, fireplace, full kitchen, and very affordable.
Cons: Water smelled a bit like sulfur, found an insect or two. Nothing terrible.
10.0 Excellent
Pros: Great amenities
Cons: It was amazing
10.0 Excellent
Pros: We loved how homey the room felt. We loved the view off the back balcony, as well as the closeness to things to do. Loved that with two kids under two we didn't have steps to get to our room.
Cons: Our only complaint, if you can call it that, was that the water smelled very metallic. The lid to the washer in our unit didn't open fully and it was hard to do laundry.
10.0 Excellent
Pros: Virginia is a beautiful state with hilly, winding scenic roads. The condos are nestled in a secluded neighborhood deep in the woods overlooking a bluff. I arrived after check in and was provided a map with keys to the condo. A property security guard led the way to the property. The condo has all the amenities needed plus cooking supplies, you will need spices and cooking items. The caverns are near by, lakes access to Lake Laura, access to indoor pool.
Cons: Because of the trees there is no where lay in the sun off balcony.
7.5 Good
Pros: It was up in the mountains away from everyone. We were able to uses the pool at the activity center. The condo was nice and clean when we arrived.
Cons: When the kids tried to watch tv in the evening it would come in then it would go out saying no signal so having a better tv service would be better and you have to pay for a WIFI router if you need to use it for work or school.
7.5 Good
Pros: Convenience to the event. Beautiful scenery. Lenins were clean as well as condo.
Cons: Smelled like smoke and the bed couch was in very bad shape. I thought it slept more. One queen and one full bed. the sofa bed was very broken down.
9.5 Excellent
Pros: My family and I were pleasantly surprised with our condo. The one we stayed in had a large living room with fireplace, eating area, kitchen with island (including utensils, pots, pans, plates, cups, dishwasher, washer, and dryer), 2 bedrooms, 1 1/2 bathrooms, and a sauna. It was plenty of room for my wife, our 2 kids, our small daschund, and me. There was also cable in the living room and master bedroom. We also had a closed in balcony which we all loved. The owner was beyond nice! Despite being 1 1/2 hours past check-in, due to getting lost, she went out of her way to make checking in easier for us. She also pointed out family friendly activities on a map for us. The resort is about 30-45 minutes from any supermarket, so I would suggest stocking up on any food or essentials beforehand.
Cons: There were only two minor cons. One was that we were unaware of how far off of the main road our condo was. It took us about 10-15 minutes to find our unit, due to the rough, windy condition of the road. Also, wifi would have been nice. Neither of these are dealbreakers though.
8.0 Excellent
Pros: Good value for the money. Got a small condo for the price of a hotel room. They do have a lan line phone in the condo. The place was nice , 2 berooms small kitchen and living/dinning area. Sits on top a small mountain so we had some nice views.
Cons: No cell service at all. Be aware that there is no WiFi here so I figured we would just use our cell phone data for searches and calls but we had zero signal here. We had to drive a bit to get any service.Bring bottled water for drinking. The tap water in this area is not great.
3.3 Mediocre
Cons: The water had black particles in it, smelled awful. Toilet was clogged. Furnishings were dated.