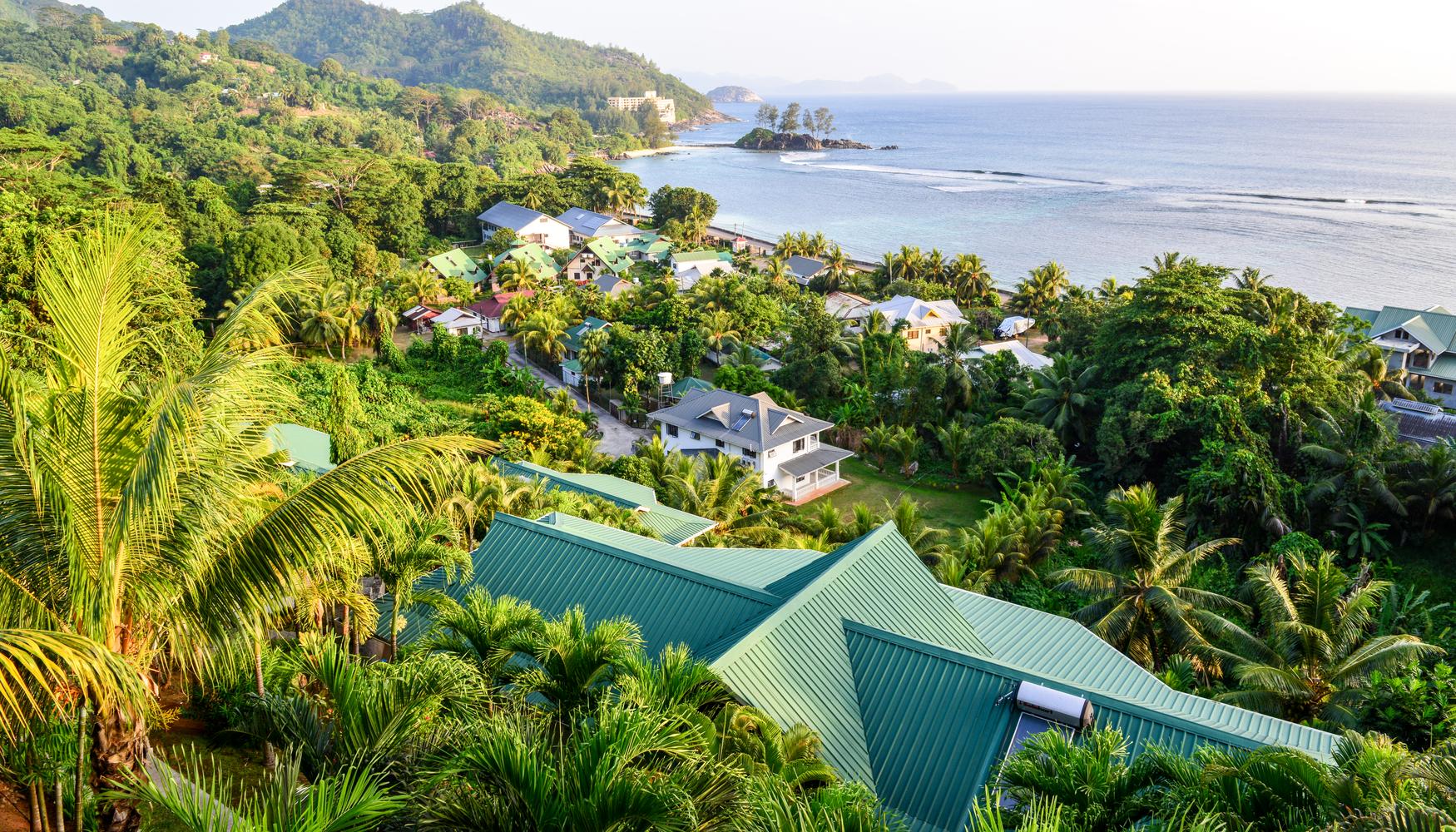 Seychelles vacation information
| | |
| --- | --- |
| Top vacation (Flight+Hotel) | $1,130 |
| Family vacation (Flight+Hotel) | $1,122 |
| Romantic vacation (Flight+Hotel) | $1,223 |
| Luxury vacation (Flight+Hotel) | $1,197 |
| Budget vacation (Flight+Hotel) | $858 |
Why should you book a vacation package to Seychelles?
If you need time off the grid, then Seychelles getaways might just be right for you. Lose yourself on the stunning beaches as you listen to the sound of birds chirping away all day long. Take a scenic hike to marvel at the flying foxes, sail, or scuba dive and swim with the fish.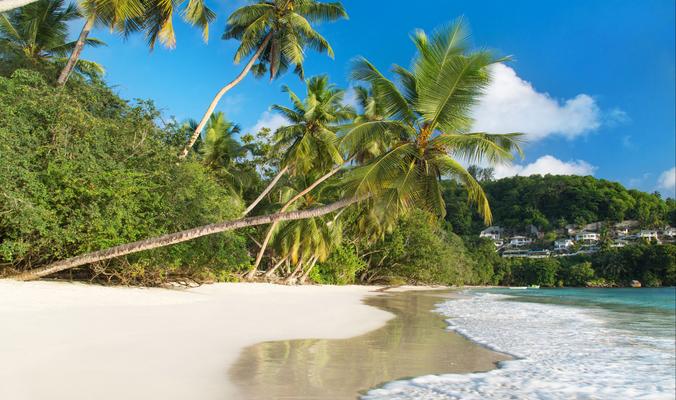 Located off the coast of East Africa, the island is home to 115 islands that provide dreamy vacations with white sandy beaches, forest-clad mountains, and turquoise waters.
When should you book a vacation package to Seychelles?
The best time to enjoy affordable Seychelles vacation packages are the months of April, May, October, and November. The weather is perfect for sunbathing, wildlife watching and scuba diving, and the period lacks the tourist crowds that visit in the peak seasons of December, January, July, and August.
Where should you stay in Seychelles during your vacation?
For any vacation type in Seychelles:
Bliss Boutique Hotel is home to spacious rooms with tropical gardens, stunning views of the Indian Ocean, a spa, and snorkeling beaches. Guests can relax and enjoy pampering accompanied by delicious cuisine and cocktails from the bar. The hotel is located just 25 minutes from Seychelles International Airport.
If you fancy privacy, the Constance Ephelia comes with private garden areas. You'll have a lounge, TV, private luxury bathroom and, depending on the villa, a great mountain and ocean view. It is also a 25-minute drive from the airport.
For family vacations in Seychelles:
Reef Holiday Apartments, situated 8 minutes from the airport, is ideal for family vacations. Each apartment is equipped with a bathroom, air conditioning, and cable TV. All apartments have a balcony with some offering scenic ocean and mountain views.
Jamelah Beach Guest House on Mahe sits on the breath-taking Anse Aux Pins Beach, a 10-minute drive from the airport. The rooms have free Wi-Fi, air conditioning, and the tropical gardens offer easy access to private beaches where guests can relax. It has a children's playground and is close to a couple of restaurants.
For romantic vacations in Seychelles:
For romantic Seychelles package deals, head over to the Maia Luxury Resort and spa. It's ideal for couples seeking a relaxing, private, and intimate time. The standalone villas are secluded and very cozy, with each having a butler, access to an open-air Tec restaurant, epic ocean views and the option of dining on the beach or in your villa. This resort is located on Mahe Island.
The Hilton Seychelles Northolme Resort and Spa also offers Seychelles travel packages affording you a romantic setting with private decks, sea views, four-poster canopy beds, minibars and separate open showers.
For luxury vacations in Seychelles:
For luxury Seychelles package deals, the Banyan Tree, located at Anse Intendance on Mahé Island, is the perfect place to enjoy a workout at the fitness center, a day of pampering at the spa, a dip in the outdoor pool, and top it off with some sunbathing on the picturesque beach. The hotel is accessible by private shuttle or a taxi from the airport.
The Four Seasons Resort in Seychelles is a luxurious destination located about 5 minutes from the Petite Anse and Baie Lazare beaches. It features a gym, swimming pool, water sports pavilion, and spacious, well-furnished rooms. This luxurious Seychelles getaway is a 30-minute drive from the airport.
For budget vacations in Seychelles:
Chez Lorna, located 20 minutes from Seychelles International Airport offers ample, air-conditioned rooms with a balcony or terrace. Guests can enjoy awesome sea views, private parking, and quality customer service. The hotel can arrange rentals or pickup from the airport.
Beau Vallon is another affordable resort located on Mahe Island. It provides free parking, spacious rooms, Wi-Fi and flat-screen TVs. This resort is approximately 8 miles from the airport and is accessible by taxi or rental car.