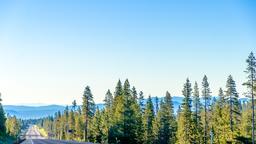 Bend Luxury Car Rentals
Search hundreds of travel sites at once for luxury car rental deals in Bend
Bend Luxury rental information
| | |
| --- | --- |
| Pick-up location | Bend |
| Car types | Luxury |
| Rental locations | 5 |
| Popular agencies | Enterprise |
Bend Luxury Rental Reviews and Directory
Avis

8.7 Excellent (12 reviews)
╳
Avis reviews
Car rental locations
63176 Nels Anderson Road
+1 541 382 0266
| | |
| --- | --- |
| Monday | 09:00 - 15:00 |
| Tuesday | 09:00 - 15:00 |
| Wednesday | 09:00 - 15:00 |
| Thursday | 09:00 - 15:00 |
| Friday | 09:00 - 15:00 |
| Saturday | |
| Sunday | |
Unthorough inspection
Cons:
The woman at pick up left it to me to inspect damage. When I told her about fender damage she noted it on the form but didn't inspect it herself. I then had to tell her about the cigarette smell and the oil change light. She said she'd let them know at the drop-off location.
10.0 Excellent
Aug 27 2017
8.8 Excellent
Jul 13 2017
Pros:
I picked up the car in Bend rather than at the Redmond air port and this saved me near $2oo.
Confusing Drop Off
Pros:
Great, easy pick up in Bend. The attendant was very helpful and quick to get us our information.
Cons:
The drop off location close a few minutes early and there was no drop box to leave the keys. We were told we had the car for 24 hrs but we were unable to get it in on time.
9.2 Excellent
Aug 16 2016
$72 from bend to portland... not bad.
Pros:
Clean car, good car, nice people, a little hard to find the place, then we pulled into the back and it took us a while to figure out where the front was.
Enterprise

8.1 Excellent (20 reviews)
╳
Enterprise reviews
Car rental locations
Enterprise
Locations in Bend
2301 Ne Division St
+1 541 383 1717
| | |
| --- | --- |
| Monday | 08:00 - 17:00 |
| Tuesday | 08:00 - 17:00 |
| Wednesday | 08:00 - 17:00 |
| Thursday | 08:00 - 17:00 |
| Friday | 08:00 - 17:00 |
| Saturday | 09:00 - 12:00 |
| Sunday | 00:00 - 00:00 |
10.0 Excellent
Oct 29 2021
The van that we rent was en very good conditions clean and comfortable
Cons:
The car I booked was at a location that was closed. I was then sent to a location that was 20 miles away and did not have any available cars. Enterprise was not able to rent any vehicle.
Pros:
The vehicle has four tires and a steering wheel
Cons:
Not charged me more than my reservation with Kayak+ a two hundred dollar deposit, of which one was refunded at all. This is typical with enterprise. Despite no damage ever being done on my part to any enterprise vehicle I've never gotten my deposits Back, in anything enterprise always finds a way to charge me additional. As of now I have paid 305 dollars for a 36 hour rental which is criminal.
10.0 Excellent
Aug 25 2020
Pros:
Availability of car and nice employees
Pros:
The staff was great and did a good job of making things safe.
Cons:
Mazda 6 was a decent car but had some issues with alignment and had a hard pull to the right.
10.0 Excellent
Jul 14 2020
Pros:
The drop off and pick up were super easy and quick, and I got a free upgrade. The car was nice, comfortable, and fuel efficient.
Cons:
Nothing. It was perfect.
Cons:
The cars cruse control and air conditioning didn't work
Prices at checkout were not comparable to what I agreed to
Cons:
The price at checkout was $50 more expensive that what it said the price would be when I ordered the car.
10.0 Excellent
Sep 7 2017
Cons:
There was no notification where the Enterprise location was in Butte, Montana (airport or off-site) and when it was open. Return date was made without providing this information. Telephone help was useless; they didn't know and given taht it was Labor Day and apparently,y your office was closed there was no one local to answer the phone. I wasn't the only on that was caught off guard.
Bend, OR Enterprise was fantastic!
Pros:
My friends and I wanted a large van to shuttle us around for the annual Bend Beer Chase. I never know what to expect with car rental places. Sometimes it's fine, sometimes it's a huge hassle. And coordinating anything with seven people is a nightmare, so we had a lot of last minute changes and requests. I expected the rental experience to be a big headache. To my very pleasant surprise, Bend Enterprise handled everything very well and was probably the easiest part of our trip! We were quoted, including the insurance and whatnot, about $250, but at the end of it all, the total was only around $200 (for two days). The van itself was comfortable, clean, and a lot of fun to drive! I was in and out within five minutes both at pickup and drop off. The agent helping me was very friendly and accommodating, and helped to point out the features and controls that would keep us comfortable during our drive. Overall, a really great experience with these guys!
Hertz

8.1 Excellent (15 reviews)
╳
Hertz reviews
Car rental locations
2025 Ne Highway 20
+1 541 388 1535
| | |
| --- | --- |
| Monday | 09:00 - 12:00 |
| Tuesday | 09:00 - 12:00 |
| Wednesday | 09:00 - 12:00 |
| Thursday | 09:00 - 12:00 |
| Friday | |
| Saturday | |
| Sunday | |
10.0 Excellent
Jun 26 2020
Pros:
The rental price was the BEST with Kayak. The Hertz staff was nice and checkin was easy. The car got great gas mileage. The drop off was easy.
9.2 Excellent
Jul 23 2018
Cons:
At check in the reservations weren't available so we had to show our reservation and it seemed to take quite a bit longer. However the customer service rep was apologetic and really stepped up to get our reservation handled
Never again
Cons:
Cancelled because they wouldn't accept a debit card as payment and they charged my debit card...
Dirty car
Pros:
The car seemed pretty new
Cons:
I interrupted the rep from some activity on her cell phone. The car was so dirty. It had trash, crumbs on the seat & cereal down the inside. Interior windows filthy. No offer to complete the cleaning.
I'll never rent or even reserve a rental with Hertz
Pros:
They have the lowest price
Cons:
There was no warning that I was required to have a major credit card i order to rent a vehicle with Hertz. The girl at the counter could have cared less to the fact that I had a reservation for 2 weeks in order to be in my close friend's wedding. She offered no help or other options, and simply wanted to keep saying, "It's our policy" yet when I asked to see the policy, she refused and said she would call the police on me! WORST CUSTOMER SERVICE EXPERIENCE OF MY LIFE! I'LL NEVER USE HERTZ OR KAYAK AGAIN!
10.0 Excellent
Apr 3 2017
Terrific Hertz Sales Person
Pros:
I accidentally pre-registered for the vehicle to be in a different location. My sales person was solution-oriented from the start, very positive and friendly. She got me taken care of in the best way possible, as soon as possible. This was my first time renting from Hertz and I was very impressed.
10.0 Excellent
Mar 26 2016
Pros:
Great agent in bend Oregon office, Trevor. Helped out in tough situation
Budget

╳
Budget reviews
Car rental locations
63176 Nels Anderson Road
+1 541 385 1107
| | |
| --- | --- |
| Monday | 09:00 - 15:00 |
| Tuesday | 09:00 - 15:00 |
| Wednesday | 09:00 - 15:00 |
| Thursday | 09:00 - 15:00 |
| Friday | 09:00 - 15:00 |
| Saturday | |
| Sunday | |
Cons:
The representative walked me to the car to show me the vehicle had been sanitized and cleaned. After I arrived at my destination I found empty water bottles with chewed gum on the lid. There was trash in the back as well.
Cons:
They grossly overbilled me compared to the price I secured on priceline/kayak
Told I needed stuff I didn't need
Cons:
Lady at Budget in Bend promptly told me that the gps in the car would be disabled. Because of that I opted to rent one. The gps in the car worked just fine so I payed for something that I didn't need
Cons:
See my prior written statement. My final bill was double than what I was quoted and no explanation as to why. I didn't get a printed receipt just a transaction on my credit card. I travel frequently and rent cars frequently and now I will be hesitant on booking with Budget knowing that the cost is almost double than what you are quoted.
8.8 Excellent
Sep 23 2016
Pros:
Nice car. Easy to pick up.
Cons:
Car smelled like smoke
Cons:
Over charged my card by $26.00 for a one day rental
8.0 Excellent
Oct 19 2015
Pros:
price, people at pickup site were friendly and helpful
Cons:
Drop off there was a lack of direction to area that private vehicles could wait for those dropping off rental cars.
Eagle Rent A Car

Eagle Rent A Car
Locations in Bend
62 travelers who rented a car in Bend gave the car agency they used an average rating of 8.0
Top Tips For Renting a Luxury Car in Bend
25% of our users found a luxury rental in Bend for $65 or less
Book your luxury rental in Bend at least 1 day before your trip in order to get a below-average price
FAQs About Renting a Luxury Car in Bend
How does KAYAK find such low luxury rental prices?
How much does a luxury rental cost in Bend?
Which car rental companies in Bend rent luxury cars?
Popular rental car types in Bend