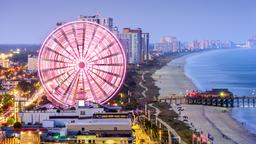 Myrtle Beach Beach Hotels
Search hundreds of travel sites at once for beach hotels in Myrtle Beach
Most popular beach hotels in Myrtle Beach
Great, 17 reviews
#3 out of 165 hotels
Excellent, 534 reviews
#4 out of 165 hotels
Excellent, 463 reviews
#5 out of 165 hotels
Great, 22 reviews
#6 out of 165 hotels
Excellent, 178 reviews
#8 out of 165 hotels
Excellent, 20 reviews
#9 out of 165 hotels
Good, 810 reviews
#12 out of 165 hotels
Great, 192 reviews
#14 out of 165 hotels
Great, 1,475 reviews
#15 out of 165 hotels
Top tips for finding beach hotels in Myrtle Beach
Would you like to find hotels in Myrtle Beach with great views of the beach? Marriott Myrtle Beach Resort & Spa at Grande Dunes is a luxury beach resort that offers sophisticated rooms that provide balconies with ocean and beach views. The four-star hotel provides guests with beach access, as well as the oceanfront restaurant, The Cove, which offers American dishes and views of the beach.
To be steps from the beach, consider staying at the Sheraton Myrtle Beach Convention Center Hotel. With the beach just 0.2 mi away, you can opt to walk there or rent one of the hotel's bikes. This modern four-star hotel is ideal for families and business travelers alike who want to be close to the ocean yet benefit from the facilities on site. Some of the contemporary rooms come with ocean views and include flat-screen TVs and minifridges.
DoubleTree Resort by Hilton Myrtle Beach Oceanfront is the ideal hotel in Myrtle Beach if you are looking for access to a private beach. Located inside three towers, the bright guest rooms boast ocean-view balconies and all the modern amenities. You will get exclusive access to a half-mile stretch of beach from the hotel, as well as a golf course.
If you are looking for suite accommodation in Myrtle Beach, Marriott's OceanWatch Villas at Grande Dunes provides two-bedroom villa rentals right on the beach. Offering four-star, beachfront accommodation that features villas with full kitchens and living areas, the resort is situated within a large residential community and is minutes from Grand Strand Beach.