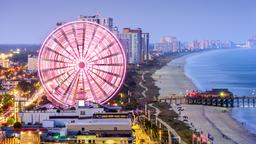 Myrtle Beach Romantic Hotels
Search hundreds of travel sites at once for romantic hotels in Myrtle Beach
Most popular romantic hotels in Myrtle Beach
Great, 17 reviews
#3 out of 165 hotels
Excellent, 534 reviews
#4 out of 165 hotels
Excellent, 463 reviews
#5 out of 165 hotels
Great, 22 reviews
#6 out of 165 hotels
Excellent, 178 reviews
#8 out of 165 hotels
Excellent, 20 reviews
#9 out of 165 hotels
Good, 810 reviews
#12 out of 165 hotels
Great, 192 reviews
#14 out of 165 hotels
Great, 1,475 reviews
#15 out of 165 hotels
Top tips for finding romantic hotels in Myrtle Beach
Away from the beach and the hustle and bustle of central Myrtle Beach, Marina Inn at Grande Dunes occupies a stunning locale on the Intracoastal Waterway and overlooks a marina. This modern resort is ideal for couples looking for a relaxing vacation, as the comfortable guest rooms feature private terraces with water or marina views and high thread-count linens with an evening turn-down service. You can take your pick from an outdoor and indoor pool, use the 24h fitness center, or unwind in the spa or on the private beach.
If you are looking for romantic hotels in Myrtle Beach in the downtown area, stay at Avista Resort. Located in the center of the historic Ocean Drive district, where the shag dance was invented, this three-star hotel is also close to the buzz of Main Street and is a good spot for couples who want to dine and drink out. This beachfront, all-condo resort provides modern accommodation with balconies offering ocean views in one- to three-bedroom condos. If you want to chill out in the evening, there is complimentary DVD rental and a cozy bar with a pool table.
Sands Beach Club Resort by Defender Resorts is the perfect hotel in Myrtle Beach for couples who are looking for a lively nightlife. The popular bar, Ocean Annie's, is a seaside hot spot that features live music and dancing, as well as frozen cocktails on the pool deck overlooking the Atlantic Ocean. Oceanfront accommodation includes nautical-style one- and two-bedroom suites that come with private balconies and kitchens.