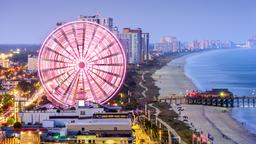 Myrtle Beach Family-friendly Hotels
Search hundreds of travel sites at once for family-friendly hotels in Myrtle Beach
Most popular family-friendly hotels in Myrtle Beach
Great, 17 reviews
#3 out of 165 hotels
Excellent, 534 reviews
#4 out of 165 hotels
Excellent, 463 reviews
#5 out of 165 hotels
Great, 22 reviews
#6 out of 165 hotels
Excellent, 178 reviews
#8 out of 165 hotels
Excellent, 20 reviews
#9 out of 165 hotels
Good, 810 reviews
#12 out of 165 hotels
Great, 192 reviews
#14 out of 165 hotels
Great, 1,475 reviews
#15 out of 165 hotels
Top tips for finding family-friendly hotels in Myrtle Beach
For hotels in Myrtle Beach that provide a kids' club, look no further than Hampton Inn & Suites Myrtle Beach/Oceanfront. This beachfront family hotel boasts seven swimming pools with two lazy rivers and direct access to the beach, ideal for beach days with the kids. Child-friendly amenities include a playground and playpen as well as highchairs in the breakfast area.
Crown Reef Beach Resort and Waterpark has the best kids' facilities in Myrtle Beach. This beachfront hotel offers numerous kids' pools, a water park with a large oceanfront river ride, and an entertainment zone that features several food outlets, plus a video game center with prizes. The family-friendly guest rooms are bright with modern facilities like coffeemakers and flat-screen televisions, along with balconies looking out on the ocean.
If you and the family love a themed hotel, then book in to Captain's Quarters Resort. The nautical theme runs throughout the three-star hotel, which boasts a shipwreck lagoon water park as well as a bowling alley. During the summer, there is a children's activity program that includes treasure hunts and a friendly shark mascot. There are also both indoor and outdoor pools, hot tubs, and lazy rivers, as well as an arcade for children to play in.
The Breakers Resort Fun is another family-friendly hotel in Myrtle Beach that also features a pirate ship in the oceanfront grounds of the resort. The Breakers Resort Kids Club will keep the little ones entertained all day, or you can spend time together in the huge lazy river. Plus, if you're interested in visiting local attractions, the resort will provide complimentary tickets for the whole family.