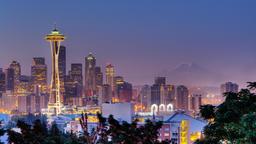 Seattle Pet Friendly Hotels
Let KAYAK do the searching
Most popular pet friendly hotels in Seattle
Top tips for finding pet-friendly hotels in Seattle
Hotel Monaco Seattle is a property that allows up to two dogs of any size to stay at no additional charge, making it one of the top pet-friendly hotels in Seattle. Not only are both cats and dogs accepted, but you can also leave them unattended if you decide to have a late evening out. Litter boxes, treats, and beds are also on hand if necessary, and there is a dog park a short walk away.
If you're looking for an upscale pet-friendly accommodation, then Hotel Andra should make your list. This four-star property near Pike Place Market offers ultra-contemporary style, where two pets can accompany you on your stay, and the usual amenities such as beds and treats are available. The hotel's proximity to the Waterfront area should provide an excellent evening walk for both human and pet.
Kimpton Alexis Hotel on 1st Avenue is another hotel in Seattle where both cats and dogs can stay free of charge, but pets are not allowed to be left unattended. Pick up your pet's welcome bag when you check in; if you need a bed or bowl, simply make a request for the hotel staff.
Staypineapple at the Maxwell Hotel is a hotel in Seattle that allows two dogs to stay for a fee of $25 per night, but they cannot be left unattended, so keep that in mind before you book your reservations. Bowls, dog beds, and waste bags are among the listed amenities provided for your pets. Meanwhile, you can enjoy the art deco ambience of the guest rooms and property. (Prices checked 21/09/19).