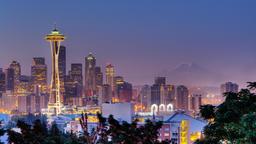 Let KAYAK do the searching
Most popular romantic hotels in Seattle
Top tips for finding romantic hotels in Seattle
Another choice romantic hotel in Seattle is Hotel Sorrento in the First Hill section of the city. Inspired by the Italian Renaissance, this historic property has 76 unique guest rooms and suites with original artwork exuding vintage charm and elegance. It also features a garden, restaurant (the Dunbar Room), and a cozy "Fireside Room," where couples can relax with a drink and chat or mingle with others during the Wine Hour.
The Edgewater – a Noble House Hotel boasts the privilege of being the only authentic waterfront hotel in Seattle, ample bona fides to recommend a romantic getaway. It looms over Elliot Bay and has rooms with either a mountain or skyline view, each room being equipped with a fireplace and custom bedding to create a truly intimate experience. An onsite restaurant and 24h fitness center are additional amenities provided for guests.
Pan Pacific Seattle is a luxurious romantic hotel in Seattle located in the South Lake Union district of the city center. The property has 156 accommodations, ranging from Deluxe and Premium to Suite, each featuring premium bedding and deep-fill bathtubs for that extra intimate touch. Yoga classes and a dry sauna number among the many choice amenities here, along with the onsite restaurant and bar.
Eco-conscious couples should reserve a room or suite at Hyatt at Olive 8, because each of its 346 accommodations are energy-efficient with contemporary furnishings. You will also discover a spa (Elaia) and restaurant (Urbane) on site, as well as an indoor pool. Within one mile of this location are the Space Needle and the Seattle Waterfront, perfect attractions for couples to savor.