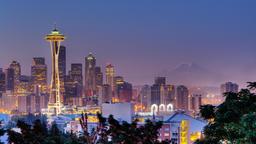 Let KAYAK do the searching
Most popular boutique hotels in Seattle
Top tips for finding boutique hotels in Seattle
Located in the Bellwood district, the Inn at El Gaucho is a quaint boutique hotel in Seattle with 17 Deluxe King Junior and Queen Junior suites, some of which have views overlooking Puget Sound. The famous El Gaucho Steakhouse is directly below the inn, for a quality place to eat. To see some sights, the iconic Space Needle is half a mile away.
If you prefer the Waterfront district, then Loews Hotel 1000 Seattle on 1st Ave. is worthy of consideration. Accommodations vary among 120 luxurious rooms and suites, many of which offer views of Elliott Bay and the sound. A major attraction at this property is its virtual golf simulator that allows you to play the world's best courses without even stepping outside. All Water Seafood & Oyster Bar and the Bell Lounge are onsite for food and drink possibilities.
Staypineapple at The Maxwell Hotel is another boutique hotel in Seattle located near the Space Needle. If you like bold, brightly colored interiors, this might be the hotel for you. Mural-painted corridors and a signature-designed pineapple create an artsy ambience, and all guest rooms come with wooden floors. If you choose Staypineapple, the Pineapple Bistro and Bar is the place to go for food and refreshments.
The Mayflower Park Hotel on Olive Way is an independently owned boutique hotel in Seattle, steeped in history and tradition dating back to 1927. Guests can select from among Classic and Deluxe guest rooms, in addition to several upscale suites, all with traditional furnishings. The property has its own restaurant (Andaluca Restaurant) and bar (Oliver's Lounge).