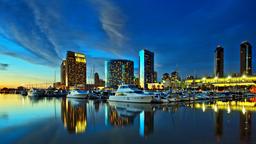 San Diego Romantic Hotels
Search hundreds of travel sites at once for romantic hotels in San Diego
Most popular romantic hotels in San Diego
Top tips for finding romantic hotels in San Diego
"The Pink Lady," otherwise known as La Valencia, features Mediterranean design and décor and landscaped grounds with palm trees and geraniums, making this La Jolla gem one of the superior romantic hotels in San Diego. Marble bathrooms with luxury toiletries and rooms with big views emphasize this romantic theme, as well as the hotel's spa and its onsite restaurant La Med. Its reputation as a former hangout of Hollywood legends is an added bonus.
The Italian Renaissance is the inspiration behind Glorietta Bay Inn, a renovated mansion located at the southern end of Coronado Island. Its proximity to the Silver Strand, which separates the Pacific Ocean from San Diego Bay, provides an element of romance to this hotel in San Diego; as do the mansion guest rooms, with their uniquely styled bathrooms, and the 1,000 sq ft Penthouse Suite, with its classic carriage elevator.
The Pearl Hotel on Rosecrans Street is an affordable romantic hotel in the Point Loma section of San Diego. Its retro styling, hipster restaurant, and its bar and stellar nightlife make it a good option for many young couples who prefer an energetic ambience instead of more traditional accommodations. "Dive-in" movie nights at the pool are sure to engage the curious.
Pantai Inn on Coast Boulevard in La Jolla is not only an excellent boutique hotel, it's also a top romantic hotel in San Diego. Exotic Bali provides the inspiration for this lush, sophisticated property, which offers guests a choice of cottages and suites adorned with authentic Balinese furnishings in a serene setting that is perfect for a quick getaway or extended stay.