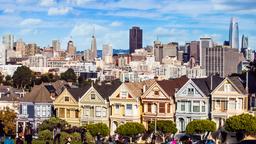 San Francisco Boutique Hotels
Let KAYAK do the searching
Most popular boutique hotels in San Francisco
Top tips for finding boutique hotels in San Francisco
Located in a renovated 20th-century fruit cannery warehouse, the four-star Argonaut Hotel offers boutique accommodation on the waterfront at Fisherman's Wharf. This nautical-themed hotel in San Francisco cleverly incorporates antique telescopes and historic steamer trunks. Special facilities include in-room spa services, infused water, and daily newspapers in the lobby, plus guided tours with a national park ranger on the weekends.
For the trendsetting traveler, the San Francisco Proper Hotel pulls out all the stops. The timeless luxury boutique hotel in San Francisco has a Victorian exterior, while inside is a mix of modern and classical styles. This bright and colorful four-star hotel is situated in the hip Mid-Market area and is home to decadent décor, where you will find abstract artwork hanging in the reception, along with red velvet furniture.
To get a taste of the highlife, check in to The Battery. One of the best and most exclusive hotels in San Francisco, this small boutique hotel is uniquely situated within a private members' club, offering guests an all-access pass to the club's elite facilities and events. With impeccable service and meticulously designed rooms—which include a state-of-the-art suite of amenities like 60" HDTVs and Geneva sound systems, as well as en-suite bathrooms that feature a large bathtub and walk-in shower—you are sure to have an unforgettable stay.
If you're looking for a place to unwind and enjoy an evening drink, consider staying at The Clift Royal Sonesta Hotel. Located in downtown San Francisco, this four-star hotel provides a glamorous backdrop to take an evening drink. Try the Redwood Room bar for a cocktail, or play a board game in the Ralph Lauren–designed living room.