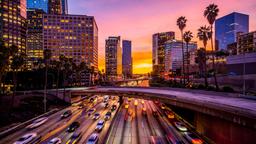 Los Angeles Boutique Hotels
Let KAYAK do the searching
Most popular boutique hotels in Los Angeles
Top tips for finding boutique hotels in Los Angeles
The theatrical Petit Ermitage in West Hollywood has an aesthetic they describe as a "dream you don't want to wake up from." Its rooftop offers a saltwater pool with comfortable lounges that recall a circus carnival and fire deck, which is perfect for sipping coffee or drinks or for taking advantage of the daily complimentary yoga. The hotel also has regular art installations by its artist in residence.
For those who miss the timeless glamour of old Hollywood, the Mr. C Beverly Hills is a hotel in Los Angeles that nods back to a simpler time. Whether you're looking to enjoy cocktails in the Lobby Lounge or watch a movie at the poolside cinema, the hotel offers a range of entertainment options.
If you're looking to stay downtown and enjoy the contemporary architecture, you can find the Ace Hotel Downtown Los Angeles located in the former United Artists Building. Its sleek interior design is very 1920s LA Noir—that is, except for The Theatre, the hotel's elaborate in-house movie palace that can be rented out for any event you may have.
The vintage and almost quaint styling of the Palihouse West Hollywood makes it one of the most stylish hotels in Los Angeles. This hotel also offers numerous dining options, like the Mardi Restaurant, where you'll dine in a European-inspired courtyard and which can also be hired for cocktail events; The Rooftop, with its 360-degree view; or the Lobby Lounge, with its bohemian flare and Moroccan tile floor.
The striking black and white Carlyle Inn offers character-filled rooms with plenty of opportunities for Instagram-worthy photos. In addition to admiring the hotel's design, guests will receive a complimentary breakfast. You can relax in the courtyard in its lounges and daybeds, or make the most of Happy Hour at the bar from 4:30 pm to 6:30 pm every Monday–Thursday.