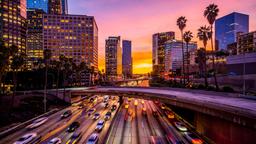 Los Angeles Pet Friendly Hotels
Let KAYAK do the searching
Most popular pet friendly hotels in Los Angeles
Top tips for finding pet-friendly hotels in Los Angeles
The Andaz West Hollywood is located in a prime location to enjoy the nightlife of the Sunset Strip, but this hotel goes beyond by welcoming pets for a small nominal fee. The Andaz is also great for those traveling on business, as it offers free morning coffee and pastries, rooms equipped with very modern technology, and an adjoining gym.
If you'd like to find a boutique hotel to stay at with your furry friend, The Standard, Downtown LA Hotel in Los Angeles has no restrictions on dogs or cats. You can take them with you to enjoy the adjacent German-style biergarten, or while you stroll through the surrounding downtown neighborhood.
For those looking to travel in style, the five-star Beverly Wilshire, Beverly Hills hotel, famous as the place where "Pretty Woman" was filmed, can pamper you or your pets. You can enjoy one of the hotel's many spa treatments, beauty services, or relaxation experiences while your dog enjoys his or her bed and dog treats, courtesy of the hotel.
The Loews Hotel Hollywood is another of the many hotels in Los Angeles that are proudly pet friendly. They have added gourmet room service menus for cats and dogs; comforts such as bedding, collars, and litter boxes; extra treats like rawhide bones and catnip; or pet-walking and pet-sitting services that can be arranged through the concierge.
If you and your dog are just passing through Los Angeles and are looking for a hotel close to LAX airport, The Westin Los Angeles Airport welcomes a maximum of two pets per room. The hotel is only four blocks from LAX and can provide you with an airport shuttle for easy access to your flight.