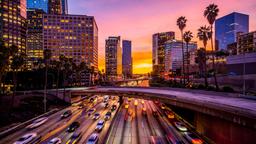 Los Angeles 5-star Hotels
Search hundreds of travel sites at once for 5-star hotels in Los Angeles
Most popular 5-star hotels in Los Angeles
Top tips for finding 5-star hotels in Los Angeles
The Santa Monica Proper Hotel offers a contemporary kind of luxury. Its interior invokes the local coastlines with organic textures and tones, bringing in the natural light. You can enjoy the rooftop swimming pool, with its restaurants and poolside bar, plus front-row seats to sunsets over the ocean. In addition, their Eastern-inspired Surya Spa offers a range of spa treatments and meditation consultations designed for premium relaxation.
If you're looking for a hotel in Los Angeles closer to the shopping mecca that is West Hollywood and Beverly Hills, The London West Hollywood at Beverly Hills offers a combination of British elegance and California cool. Not only will you be in a prime shopping location, but you can relax after a day of spending at the West End Roof Top, with its pool and lounge with panoramic city views.
You can enjoy a more private stay at The Luxury Suites, Marina Del Rey, where you can reserve fully enclosed apartments just inland of Venice Beach. During your stay, you can also make use of the business center, swimming pool, gardens, fitness center, or the poolside bar.
The Waldorf Astoria Beverly Hills is one of the most highly rated hotels in Los Angeles. Here you can enjoy spectacular views of Los Angeles from your balcony or the rooftop, make the most of the world-class staff and services, or take advantage of the spa with its steam room, massage treatments, manicures and pedicures, and beauty services.
If you want to stay in the heart of Los Angeles, Hotel Figueroa Downtown Los Angeles is only a three-minute walk from the Staples Center. This picturesque hotel also has two restaurants and four bars on site, providing you with plenty of dining without getting in your car.