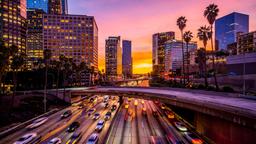 Los Angeles Romantic Hotels
Let KAYAK do the searching
Most popular romantic hotels in Los Angeles
Top tips for finding romantic hotels in Los Angeles
The elegant, castle-like Chateau Mormont offers a romantic and glamorous experience fit for a celebrity. There are a number of room options, such as the castle rooms, the garden cottages, hillside bungalows, and the penthouse, all soundproof and very private. When you're ready to eat, you can enjoy a romantic dinner for two in the popular garden terrace.
For those looking for a hotel in Los Angeles where you can enjoy a romantic escape at the beach, the Terranea offers romantic getaways for all manner of couples. If you both have a sense of adventure, this hotel will impress you with its offering of kayaking, stand-up paddle boarding, and snorkeling; in addition, they can help you plan your hikes around the coastal bluff. Wellness lovers can relish couples' treatments at The Spa at Terranea, hit the gym at the adjoining fitness center, enjoy a yoga class, or hire a bicycle.
The Venice Beach House is a more cozy, bed-and-breakfast-style inn. The picturesque 1911 villa is part of the National Register of Historic Places and is faithfully furnished with cozy antique pieces. You will also be within walking distance of the lively Venice Beach, or you can simply enjoy the privacy of the gardens and patio.
If you're looking for a hotel in Los Angeles away from the busy city life, the Hotel Bel-Air is a hidden hill sanctuary with 12 acres of beautiful gardens. Their courtyards and gardens offer quiet, romantic corners. Other options at the Hotel Bel-Air are enjoying afternoon tea by the poolside, luxuriating at the Hotel Bel-Air Spa, or just sitting by the lake and watching the white swans glide by.