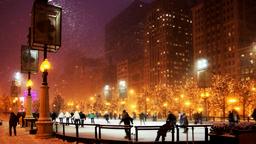 Chicago Pet Friendly Hotels
Let KAYAK do the searching
Most popular pet friendly hotels in Chicago
Top tips for finding pet-friendly hotels in Chicago
The Talbot Hotel offers you pet-friendly rooms, but sits directly across the street from the Tails in the City dog store, where you can pick up any necessities for your furry friend. Here, both you and your dog can feel pampered while you sleep in designer sheets, drinking quality craft cocktails or fine dining at 20 East restaurant.
If you're looking for hotels in Chicago for you and your pet to stay near Lake Michigan, Claridge House is in a great spot. From its location near Lincoln Park, you will be a short walking distance to a number of play spaces for your dog, including Logan Square Dog Park, Wiggly Field, and the Doggy Paddle Aquatic Center near the lake beach. Alternatively, the green neighborhood offers many good walks for you and your four-legged companion.
For those looking for hotels in Chicago that will give them a home away from home and plenty of space to set up everything your pet needs, the Ginosi 747 Apartel is a sleek, pet-friendly, modern apartment in the River West area, a block away from a metro station that connects to both the city center and the airport. For something a little different, this hotel is aviation-themed, down to the staff's uniforms.
The Staypineapple welcomes dogs of all shapes and sizes in their pet-friendly rooms, affording them their very own doggie bed, water bowl, treats, and even a companion in the stuffed husky named Dash that you will find on your bed. You can also pick up a doggie bag to help keep man's best friend entertained for when you go out exploring the city.