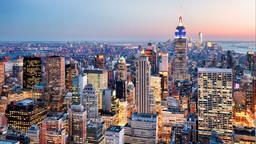 Let KAYAK do the searching
Most popular budget hotels in New York
Top tips for finding budget hotels in New York
For one of the best historic hotels in New York, try a night at The Jane Hotel. Situated in Greenwich Village, as one of the city's oldest hotels, this budget accommodation sits along the Hudson River and is designed like a ship with its cabin-like rooms. The cabins feature a sailor's-quarters theme and include flat-screen TVs and DVD players, iPod docks, and shared bathrooms. Because it offers great value for money and comfortable rooms, this hotel is also great for solo travelers. There is a rooftop, where you can relax during the summer months, and the Old Rose restaurant, which is open all day.
Looking for an urban oasis? Arlo SoHo is one of the few hotels in New York that will transport you from the buzz of city life to a sea of calm inside its four-star interiors and surroundings. The main aim of this hotel is to provide a relaxing space to hang out while not breaking your bank. The sleek guest rooms provide Scandinavian décor with modern amenities, including flat-screen TVs and minifridges, plus Bluetooth speakers and USB charging stations; meanwhile, the bathrooms feature rainfall showers. The courtyard and rooftop create the ultimate urban oasis vibe.
If you are on a tight budget, yet still want to experience the heart of New York, check in to Central Park West Hostel. Situated in the Upper West Side, this casual hostel is centrally located and offers both private and dorm accommodations. Onsite facilities include lockers, laundry, a community kitchen, game room, and sitting areas.